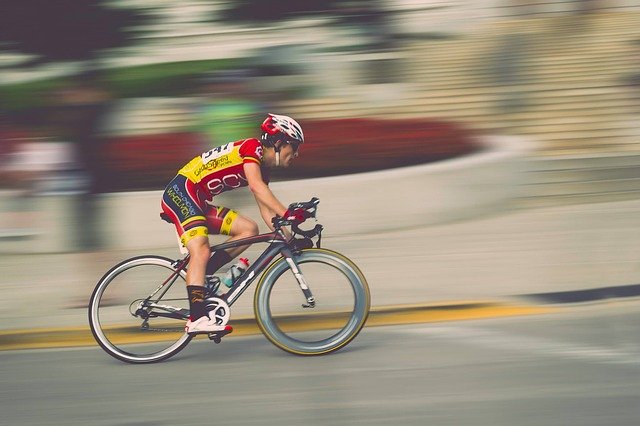 The best cycling apps for commuters
If you regularly commute to work by bike, then you know how important it is to have a good cycling app. With the right app, you can not only plan your route and learn about hazards, but also track your cycling stats and see cool routes.
In this article, we'll introduce you to the best cycling apps for commuters. From the classic Google Maps to specialised apps like Cyclemeter, there are many useful apps for cyclists. Which app suits you best depends on your personal preferences, of course.
Google Maps
Probably the best-known app for commuters is Google Maps. The app offers a comprehensive route planner for pedestrians, cyclists and drivers. In addition to the route planner, the Google Maps app also provides live traffic information. This allows you to reschedule in good time if your route is hindered by a traffic jam or roadworks.
Cyclemeter
Cyclemeter is an app that focuses entirely on cycling. The app offers a GPS tracker so you can keep track of your stats. You can also plan and share different routes. Another practical feature is the possibility to display live traffic information. This way, you can find out about detours or other dangers in good time.
Komoot
Komoot is also a very useful app for commuters. The app offers detailed maps with real-time traffic information. In addition, various tours can be planned and shared. Komoot is especially useful when you are travelling in unfamiliar terrain and want to be informed about possible dangers.
Apps for endurance training
There are different motivations to start cycling. Maybe you want to improve your health, lose weight or simply protect the environment. But whatever your reasons, it's important to have a goal in mind to stay on the ball.
One of the best ways to motivate yourself and make progress in your cycling is to use an app to help you monitor your performance. With the right apps, you can plan your route, track your speed and distance and even keep in touch with other cyclists.
Here are some of the best apps for endurance cycling training:

1. Strava

Strava is one of the most popular apps for cyclists and offers a variety of features to monitor your performance. With the app, you can plan your route, track your speed and distance, and even view live maps of your ride. In addition, the app also allows you to compete against other users and network with friends.
2. Zwift
Zwift is my personal favourite of the cycling apps. The app offers a wide range of different routes and races that you can ride. In addition, you can compete with other riders and thus constantly improve your own performance. The graphics are also very appealing and realistic, which makes cycling on the treadmill a really great experience.
3. Endomondo

Endomondo is another great option for cyclists who want to monitor their performance. Not only does the app allow you to plan and track your route, but you can also view live maps of your ride. In addition, the app also offers some advanced features such as the ability to create and track training plans and analyse statistics about your performance.
Powermeter- Necessary or nice to have ?

A powermeter is an instrument that measures the force applied to a bike. Most powermeters measure the total force applied to both pedals. Other powermeters, such as the SRM PC8, measure the force acting on one pedal only.
Powermeters are primarily of interest to cyclists and triathletes who want to improve their performance. A powermeter allows you to accurately measure and analyse your training and competition performance. You can thus make your training more effective and increase your performance.
Even if you are not an ambitious cyclist or triathlete, a powermeter can be interesting. Most cycle computers now have functions that allow you to evaluate your power data. For example, you can see whether you have lost power in the course of a ride or whether you rode certain sections of the route particularly well or badly. So it can also be interesting for recreational cyclists to analyse their strength data.
However, you should bear in mind that a powermeter is not cheap. Prices for power meters start at around 400 euros and can be considerably higher depending on the equipment and manufacturer. In addition, you usually need a bike computer as well as sensors for speed and cadence. So if you only cycle occasionally, a power meter might not be the right equipment for you.
Cycling computer, my reliable companion

If you cycle regularly, you can't do without a good bike computer. This is because the best devices not only offer accurate speed and cadence measurement, but also help you analyse your training results.
However, much more interesting for ambitious cyclists than the mere measurement of performance data is usually the question: "How can I make my training even more effective with the measured values?
For this purpose, there are numerous cycling apps available nowadays that simplify the evaluation of the training data considerably and can thus be helpful in creating the perfect training plan.
Training planning with the help of cycling apps
If you cycle regularly, you probably already have a favourite cycling route. But did you know that there are apps that can help you plan and analyse your training? With the right apps, you can improve your performance and discover new routes.
There are different types of cycling apps: Navigation, tracking and analysis. Navigation apps like Google Maps or Apple Maps have gained a lot of functionality in recent years and are very helpful when planning new routes. Tracking apps like Strava or Endomondo track your routes and give you information about speed, average pace and calories burned. Analysis apps like Cyclemeter or Golden Cheetah offer extensive functions for analysing your data. Among other things, they allow you to compare performance data with other participants or create training plans.
The best app is, of course, the one that best suits your needs. We therefore recommend that you inform yourself before downloading an app and try out different test versions to find out which app is best suited for you.